Let's face it—we're crazy about being outdoors. As the weather gets cooler one of our favorite ways to enjoy being outside (while staying at home) is by sitting around a beautiful fire pit and taking in the warmth of a fire. Picking the material for a custom fire pit is important both for function and aesthetics, so our crew at Alive Outside Landscaping has put together a list of the best materials for a fire pit installation.
Learn about brick, concrete pavers, and stacked stone and which might be best for your property in or around Fort Collins, Loveland, Windsor or nearby areas of northern Colorado.
---
Materials and construction of a custom fire pit.
Constructing a fire pit is a relatively simple process, but it takes a bit of skill to correctly design a fire pit that is safe while also looking good. The outer rim can be constructed with any number of materials (we'll get to that in a minute), but the inside usually includes crushed stone.
Fire pits also include what is called a "cap" on top of the walls of the pit to increase stability and/or create a different aesthetic. Flagstone is one of our favorite materials for fire pit caps, and we can also use it as the base material for the center of the fire pit.
Traditional brick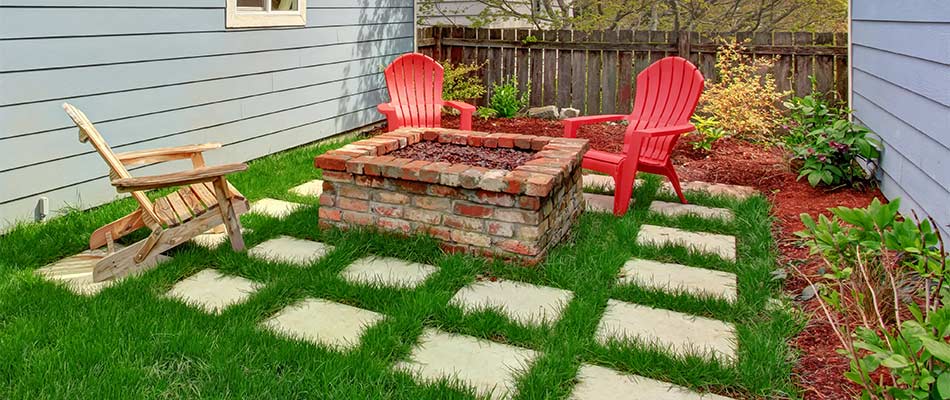 Brick is a traditional material for anything fire related. The material is naturally heat resistant and comes in a variety of colors and styles to suit your home's look. In terms of cost, brick is a middle-of-the-road option. However, it's not recommended to construct a fire pit exclusively out of brick because brick can crack over time with prolonged contact to excessive heat.
Concrete pavers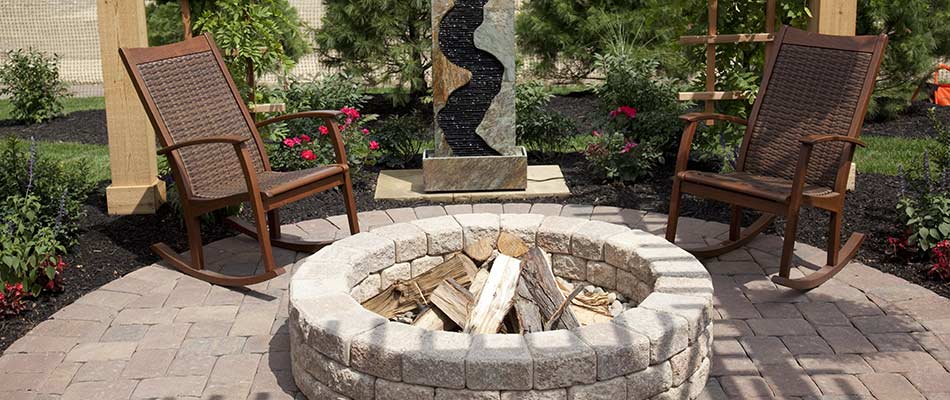 Concrete pavers are stones shaped from concrete and is a lower cost option. Concrete pavers often come in larger stone sizes, which reduces the amount of material required but may also dictate the fire pit size. This material is great at withstanding heat but is more limited in terms of color and aesthetics.
Stacked stone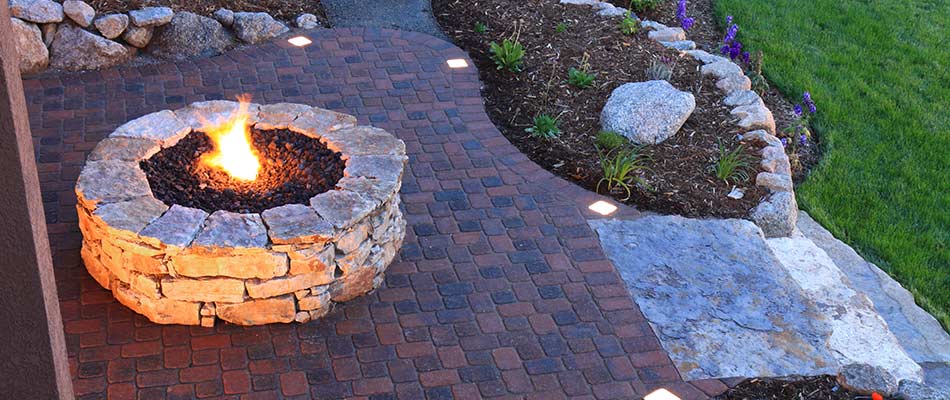 Stacked stone has a rustic look that never goes out of style. Irregular stones are carefully arranged, stacked, and adhered together to create a look that's as unique as a fingerprint. Stones come in a wide variety of shapes and angles that can perfectly match your style, and colors range from subtle browns to strong grays. Due to both material costs and the more specialized labor required, the cost is a little higher than with brick or concrete.
---
Are you ready to add a custom fire pit to your home? Call us today for a consultation.
Did you know that a fire pit adds value to your home? Our crew at Alive Outside Landscaping has more than 30 years of experience and serves areas in northern Colorado, including Fort Collins, Loveland, and Windsor. If you want to experience the joy of an outdoor fire pit, call us today at (970) 889-3826 to learn more and schedule a consultation.