Though a lot of growth doesn't happen in the winter, you shouldn't forget about your property's landscape. In fact, with the colder months upon us, you should be considering how to revitalize your property with a softscaping or hardscaping feature.
Consider the following benefits of planning for your next landscape project in the winter in Colorado areas such as Loveland, Fort Collins, Windsor, and nearby cities.
---
1. In the winter, there is ample time available for planning your next landscape project.
Settling on a landscape project is a big decision to make. In the winter, you have ample time available for planning. Take advantage of this calm season and any time you have off to plan out what you want for your landscape project. Consider factors like:
What plants will look good on your property
The size and scale of your project
The inclusion of water features and outdoor lighting
If you are unsure of where to begin the planning process, our team is available to help. We offer expert suggestions while still incorporating exactly what you want for the final product. Give us a call to see what we can do for your landscape.
---
2. Planning your next landscape project in the winter leaves you with more softscaping options.
The winter is the off-season for landscape contractors. If you reach out to expert landscape contractors like us at Alive Outside Landscaping, we can ensure we will have the plants, trees, and shrubs that you want in the spring. If you start looking at your softscaping options in the spring, it can potentially take more time to get the precise plants you want. Don't take any chances. Start discussing what you want for your spring landscape with us in the winter.
---
3. Winter landscape planning guarantees earlier job completion.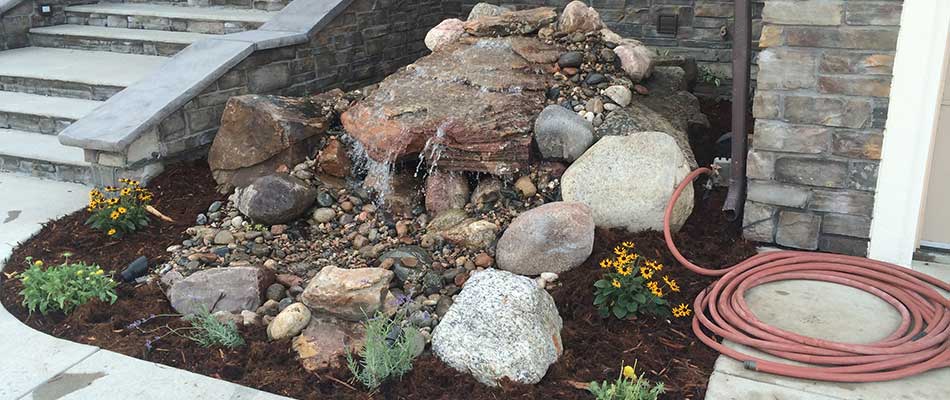 As we mentioned above, landscape contractors aren't super busy in the winter months. If you start the landscape design process in the winter, you will beat the spring landscape installation rush. With a solid plan in place for the installation of a water feature, retaining wall, or another hardscaping element, our team will start your project as soon as the weather permits.
---
4. Our team can troubleshoot your landscape better in the winter.
Because your landscape will likely be barren, our team can better troubleshoot your landscape. In the winter months, we can more easily identify and address potential issues like:
Tree branches' shape and health
Erosion
Drainage issues on your property's exterior
---
5. Plan the colors you want for your spring landscape.
If you want colorful blooms for your spring landscape, you should start planning in the winter. Spring bulbs need to be planted in the early winter. During this time, they become dormant. Later, they reach their full bloom potential in the spring. You must think ahead if you want your spring landscape to be bright and full of color.
---
Interested in professional landscape and design services? Call our team today.
We have helped countless clients in Loveland, Windsor, Fort Collins, and the surrounding areas fulfill their ideal landscape project. Call us today at (970) 889-3826 to talk about the specifics of your project. Our team of expert contractors will enhance your property with our landscape design and installation services.