Adding livable space to the exterior areas of your property is a sound investment that allows your family to kick back in the fresh air and soak up some sunshine. One great way to do this is with a brand new outdoor kitchen!
The average price of the outdoor kitchen installations we have performed for customers in the Fort Collins, Loveland, Windsor, CO area is between $10,000 and $30,000, and includes everything you need to maximize your outdoor living space.
Our contractors will consult with you during the planning phase to make your ideal kitchen a reality. Cost will vary depending upon the options you choose, which often include fire pits, fireplaces, and new patio installs.
We build lasting spaces with the most attractive materials:
Stainless steel for sinks and grills
Stone or pavers for patios and seating walls
Granite (including high-end), limestone, and travertine for counters and bars
Our designs are custom to your needs, and can be created using a variety of colors and textures. They are crafted to create a seamless transition from the inside of your home to the outside. The newly created space will truly be an extension of your home.
The price for outdoor kitchens includes complete design and construction, along with the needed appliances, grills, and sinks. We run power, water, and gas to the appliances as required.
---
Average Return on Investment & Increased Property Value With Outdoor Kitchens
The cost of design and install is more of an investment than an expense. The average ROI varies depending upon the location of your home, along with the materials and appliances used. Some articles put the average return on investment at around 55% for outdoor kitchens, according to Super Money, which is a sizable boost to your overall property value.
Higher quality materials last longer and add increased value. We use stainless steel appliances that are designed to withstand the Fort Collins, Loveland, and Windsor area weather, year-round. Our durable countertops are built using a variety of stone which can be sealed to withstand direct sun and freezing weather. The pavers and stone we use for patio areas are extremely durable and last longer than wooden decks, for example.
---
Luxury Additions Include Bars, Dishwashers, & More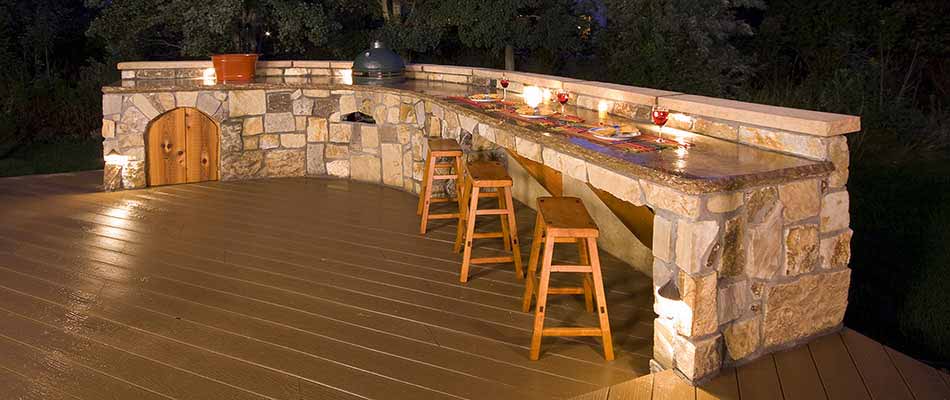 We can take things to the next level of convenience and luxury if you desire. Some of our clients top off their outdoor kitchens with bar areas, which can also be constructed with gorgeous granite, limestone, or travertine.
We can install a number of luxury additions with your project, which can include but are not limited to:
Dishwashers
Wine refrigerators
Refrigerated beer keg dispensers
Smokers & pizza ovens
---
Call for a consultation on outdoor kitchen design.
Reach out today for a consultation on your dream outdoor kitchen design. Call (970) 889-3826 to speak to one of our experts in Fort Collins, Loveland, Windsor, and the surrounding areas of CO.