When you start planning the installation of an outdoor water fountain for your home or business, you'll find that there is a wide variety of materials to choose from.
You must consider both synthetic and natural-looking materials and how they complement your surrounding landscape. You should also plan out if you want a primary material to dominate or if you want to incorporate a combination of several different materials. Here at Alive Outside Landscaping, we offer water fountain installation services to residential and commercial properties in Fort Collins, Windsor, and Loveland, CO.
If you want a water fountain for your property but aren't sure where to begin with the planning process, our water fountain contractors are here to help. Check out this guide on choosing the best materials for your outdoor water fountain.
---
Fiberglass is a very light material used in outdoor water fountains.
Fiberglass is one of the lightest materials available for use in outdoor water fountains. Despite its lightness, it is incredibly strong and won't break easily. However, if your landscape has a very open layout and experiences heavy wind, you may not want to use fiberglass alone, as your water fountain may be susceptible to blowing over.
If you live in an area with a lot of wind, you can plan your water fountain so it incorporates both fiberglass and heavier materials. This way, the weight of your water fountain will be adequately balanced and able to withstand gusts of wind.
---
Cast stone water fountains offer a very realistic look.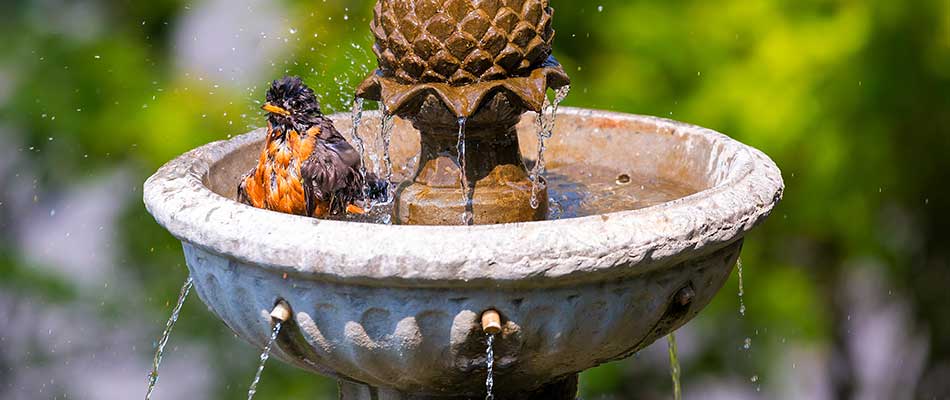 If you want a more realistic feel for your outdoor fountain in Loveland, CO, opt for a cast stone material. Cast stone is very heavy, so it makes for a reliable and long-lasting final product. However, keep in mind that because cast stone is a porous material, it has very specific cleaning needs throughout the year.
Even before the temperatures begin dropping, you will need to drain your water fountain and allow it to air out. This way, its porous body won't develop cracks throughout the winter.
While cast stone water fountains are beautiful, ensure that you are committed to the cleaning and upkeep process.
---
Metal water fountains are elegant and will retain a beautiful shine with the proper maintenance.
Whether you opt for bronze or stainless steel, a metal water fountain will be an elegant addition to your landscape. With the proper maintenance, your new outdoor water fountain will retain its beautiful shine for years. While metal materials may be more costly, they make it easier for fine details of your choosing to be incorporated.
---
Do you want to add an outdoor water fountain to your landscape? Call our team today.
If you are interested in adding an outdoor water fountain to your landscape, our water fountain installation company can help. Fiberglass, cast stone, and metal are just a few of the materials you can use in the construction of your outdoor water fountain. We will recommend the best materials to use in your specific project and also incorporate your design requests.
Call our team today at (970) 889-3826 for expert water fountain design and installation services. We proudly serve homes and businesses located in and around Windsor, Fort Collins, and Loveland, CO.