Custom patios add value to your home and increase overall outdoor living space. More livable space means more room for relaxing and spending time with family in Fort Collins, Loveland, Windsor, and nearby areas in Colorado.
Our hardscapes are designed and built by our professionals with sturdy, long-lasting materials that provide a useful new living area capable of supporting quality furniture, cooking equipment, and more.
---
Custom Patios Offer a Good Return on Investment (ROI)
Adding a custom patio to your home offers a good return on investment or ROI. According to Supermoney.com, patios can provide a return that ranges from 30% - 60%. The return will depend upon property value and real estate trends in your area. If quality materials are used, and the patio is a central feature of the home the value can be even higher. Overall, the investment is a worthy one, which can make your home more attractive to a buyer if you choose to sell.
---
Custom Hardscapes Provide Extended Living Space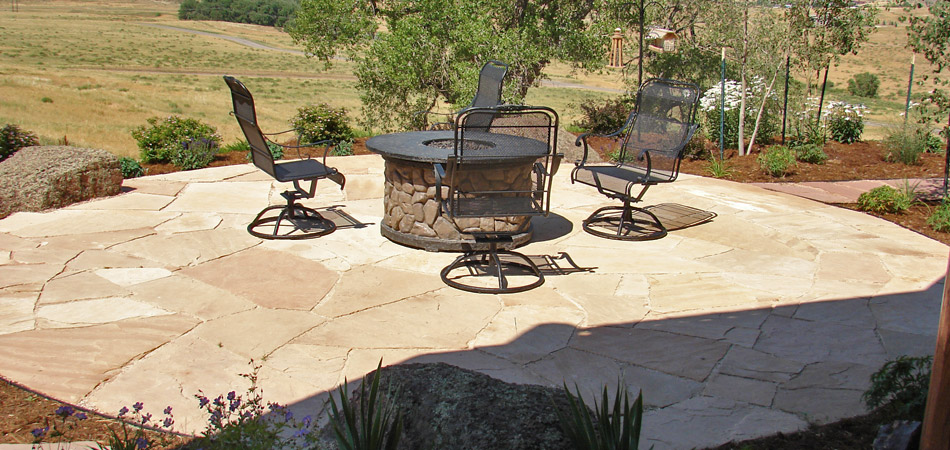 When the weather is nice, families are often drawn to the outdoors to enjoy it. A custom patio ensures they have a place that's slightly elevated from the rest of the yard and provides a stable, level area for quality patio furniture.
When designed properly, drainage will be taken into consideration, sending water away from the patio. Outdoor furniture will stay cleaner and is designed to dispel heat, which adds extra comfort in your new outdoor living space. A custom patio truly is an extension of your home, providing more space for soaking up some sun or throwing a few steaks on the grill.
---
Patios are Low Maintenance, Built With Sturdy Materials such as Concrete Pavers, Flagstone, and Brick
Patios are considered a low maintenance space because they are designed for the outdoors. They can usually be pressure washed or sprayed with a hose to clear dirt and debris. A power blower can be used to clear leaves and twigs that may fall during storms. That's just about it!
The only time maintenance becomes a problem is when they are poorly built. Our pros don't cut any corners and use materials that last. Our patios are built with brick, natural stone, and concrete pavers that rarely crack or sustain damage. Standard poured concrete is prone to cracking and may need resurfacing every so often, which is why our custom materials are a better investment.
We build hardscapes with the following materials:
Concrete Pavers - Available in many shapes and sizes, can be arranged in geometric patterns for visual appeal
Brick - Provides the classic look that comes with durability. Often matches best with homes built of brick.
Flagstone or Natural Stone - Natural slabs that provide an earthy look and create interesting patterns when arranged to create a flat surface
Many materials are available for patios and our team can consult with you on which one would best suit your Colorado property.
---
Call today to schedule a consultation about your custom patio!
Call (970) 889-3826 today to schedule a custom patio consultation in Fort Collins, Loveland, Windsor, and the surrounding Colorado areas.