In our part of Colorado, we have beautiful scenery and weather to enjoy all the time—and that's why we love helping people create beautiful outdoor living spaces all throughout the greater Denver area, including Fort Collins, Loveland, and Windsor.
When our clients called to help improve their outdoor living space for their Denver backyard, we were more than happy to assist in planning out and installing a design that looked gorgeous and also incorporated many natural elements of our state. At Alive Outside Landscaping, we have more than 30 years of experience and are also ICPI certified contractors so we are able to plan out and install the highest quality projects.
---
Installing a Custom Fire Pit Adds Value to a Home
One element our client wanted to add was a custom fire pit. Custom fire pits are a great addition to any outdoor living space, as they provide a great area to gather around for roasting marshmallows or extra warmth on chilly fall evenings. A fire feature can also add value to your home.
This fire pit was constructed from concrete blocks in the middle of one of their new patio areas so that the homeowners can set up furniture around it.
---
Patios, Pergola & Composite Deck Expands Living Space, Adds Depth to Property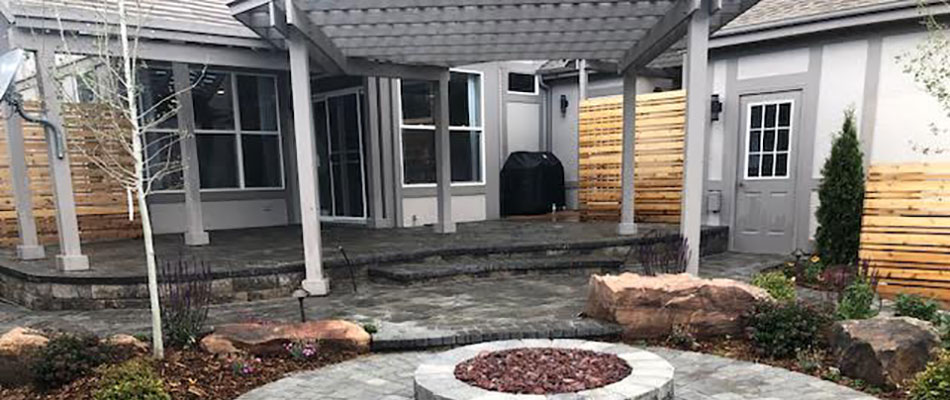 For this project, we constructed three patios that all merge together for a large outdoor living space. The first patio is attached directly to the home so that the homeowner and their family can directly step out onto their new space and instantly enjoy it. We then constructed a second level by adding two steps down to that area.
The third patio was built to center around the fire pit. Together, they all create a cohesive space that also blends well with the home's architecture and coloring. We also added some composite decking to the project.
We also added in a pergola to help provide shade for the homeowners to enjoy.
---
Dry Creek Beds Are a Natural Way to Improve Drainage
Along the edge of the patio, we elected to lay down a dry creek bed. These features have many benefits, which include drainage improvement. Sometimes, areas of a yard may have issues with water pooling in an area. Dry creek beds are used to combat that issue and help the water drain off to different areas.
Dry creek beds are also great for shady areas where plants may not grow very well. They are a natural-looking solution instead of just having a muddy, dirty area without plant growth. We make them from river rocks and use them as another focal point in our projects.
---
Adding Native Plants Accents the Hardscaping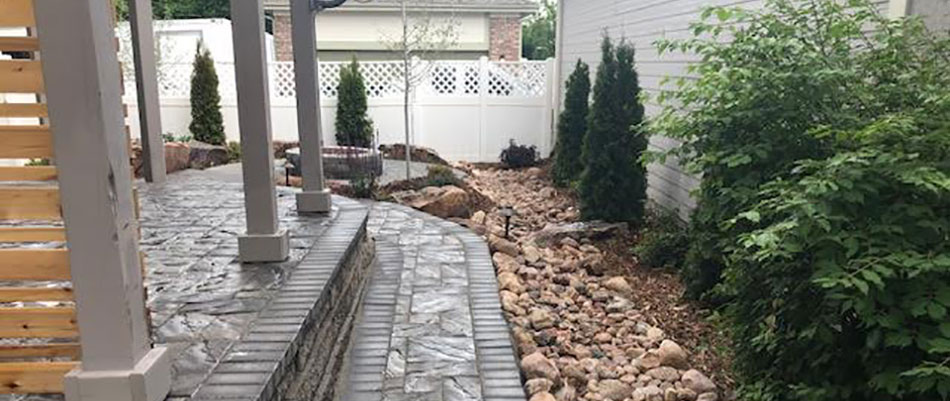 Once the hardscaping was put in, we went back through and planted some native plants that will thrive in the Colorado climate. Using native plants helps to ensure that they will grow well and be healthy here. They also serve as a great accent to the hardscaping projects that we installed.
---
Check out some more project photos here!
---
Do you want to improve your outdoor living space?
We are able to help with hardscape and landscape installation in the Denver area, including Fort Collins, Loveland, Windsor, and more. Call the company with more than 30 years of experience at (970) 889-3826 to set up your estimate so we can discuss what the outdoor living space of your dreams looks like!