Adding outdoor living space to your home in Fort Collins, CO, can increase property value and also give you extra space for entertaining friends and family. It's a great way to create a space that you can love and enjoy all year.
When this homeowner came to us with a desire for an improved outdoor living space, we consulted with them on what their needs were and then designed a space that not only looks beautiful but is also highly functional.
---
Developing a Space to Fit the Homeowner's Needs
Our homeowner wanted an outdoor living space for entertaining. They wanted to include a custom fire pit, build a retaining wall, add in some steps down to the rest of the yard, and put in a spot for their hot tub. We took these needs into consideration during the landscape design phase.
---
Constructing a Retaining Wall & Stone Steps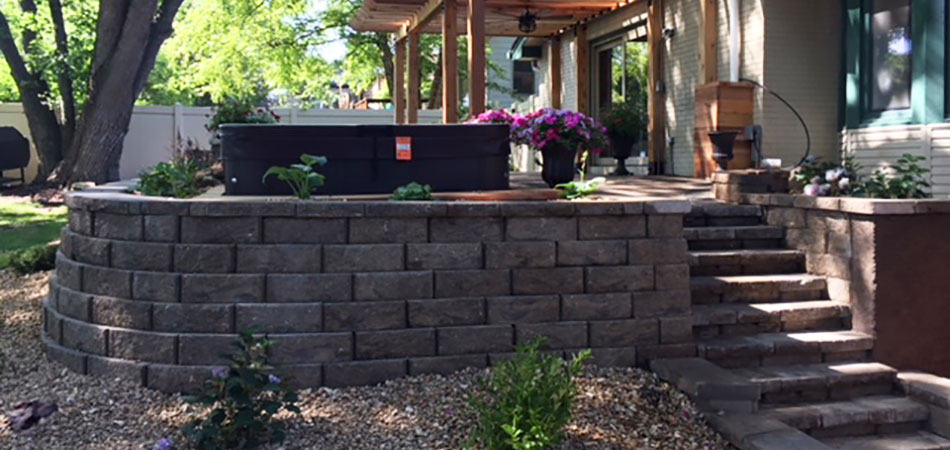 Retaining walls prevent soil erosion and also help with the overall aesthetics of a property. In this case, we added a retaining wall that also had a raised planter bed. This gives the homeowner an additional area where they can opt to add in more of our beautiful native Colorado plants.
This retaining wall that we built using concrete blocks served as the base for the rest of the project, as it helped to elevate the outdoor living space from the rest of the yard.
For easy access to the rest of the yard, we added in stone steps in the front and off to the side.
---
Creating a Custom Paver Patio
The homeowner wanted to have certain elements in their space and the best way to do this was to build them a custom paver patio that cohesively brought all those elements together. When we designed the patio, we took into account what their home already looked like. The patio needed to match the style of their home while being functional.
Their custom paver patio manages to bring together a hot tub space, custom fire pit, seating wall, and other elements like areas for native plants to grow and flourish.
---
Designing a Custom Fire Pit & Seating Wall
One of the elements this client wanted was a custom fire pit, which is great for entertaining guests at any time of the year. By using a custom fire pit, we were able to make a piece that blended in with the rest of the hardscaping project. We built this one from the same types and colors of concrete pavers that we used for the patio.
Around the fire pit, we inserted a seating wall. Seating walls are a great, natural-looking way to increase seating in your outdoor living space. With a wall like this, it's easy to imagine friends and family seated around the fire, talking and toasting marshmallows on a cool fall evening.
---
Installing Custom Landscape Beds with Plants Local to the Area & River Rock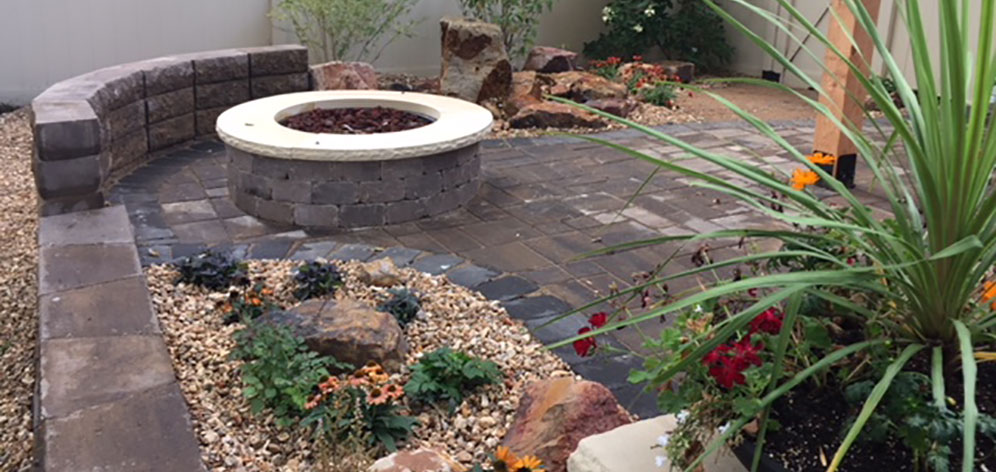 To give this project a polished, natural look, we also installed custom landscape beds around it. We used local plants that are native to the regions of Fort Collins, Loveland, Windsor, and other surrounding areas in Colorado.
By using brown river rock as a ground cover, we completed the look of these beds and also protected them from natural threats like weed growth and soil erosion. We also did some boulder landscaping throughout for an aesthetically pleasing feel.
---
Building a Pergola to Provide Shade
Finally, we added in a pergola in order to provide a nice shady area during those warm summer afternoons. Pergolas provide shade while still allowing you to catch a glimpse of sky and not making the space feel cramped. We wanted our client to feel like their outdoor living space was open and airy throughout.
---
Call us to create an outdoor living space for you.
If you are located in or around the areas of Fort Collins, Loveland, or Windsor, CO call us today at (970) 889-3826 to set up a consultation on how we can create an outdoor living space for you that will give you entertainment and enjoyment for years to come.