Adding a fire feature to your yard can provide a beautiful focal point as well as add ambiance to your outdoor living space. But deciding which type of fire feature to use can be a tough decision. Both can add warmth and heat on a cool evening, but they are very different in terms of size, structure, and other aspects.
If you own property in Fort Collins, Loveland, Windsor, or surrounding Colorado areas and are considering putting a fire feature into your outdoor living space, here are some things to consider when comparing outdoor fireplaces vs. fire pits.
---
Outdoor Fire Pits Allow for More Interaction Around the Fire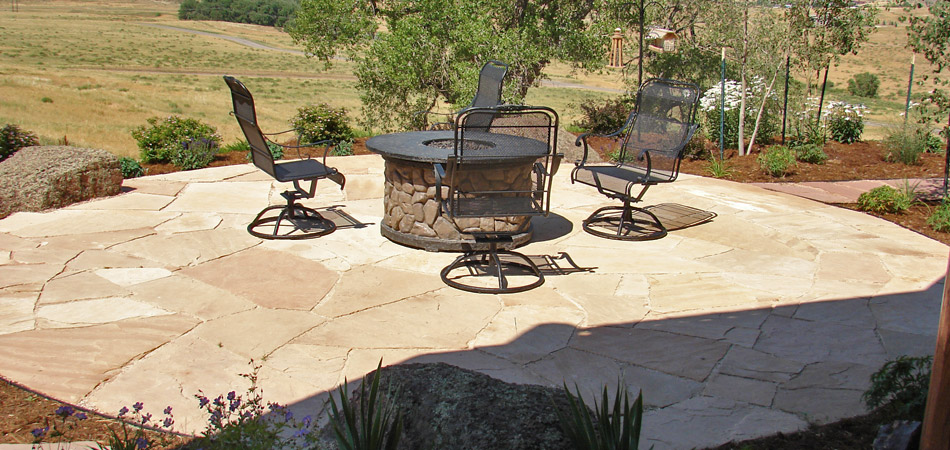 One large perk of an outdoor fire pit is that when it's typically built, it's in a shape that allows for people to sit around the fire and interact. Often, a fire pit build will also include a matching stone seating wall. Fire pits are a great element for families with children who may want to sit outside roasting hot dogs or marshmallows. The smoke from the fire pit can also serve as a natural way to repel pests like mosquitoes, as they do not like smoke and will stay away from it.
Fire pits can be made in a circular shape, but also square, rectangular, or oval, depending on the property owner's preference. Typically, they are around three feet in diameter but as our fire pits are completely custom, they can be any size desired. A fire pit can be gas or wood-burning and can be located pretty much anywhere on the property since it doesn't have a chimney.
A custom fire pit does not require building permits or adherence to code regulations, while a custom fireplace often does.
---
An Outdoor Fireplace Creates Classy Ambiance & Gorgeous Focal Point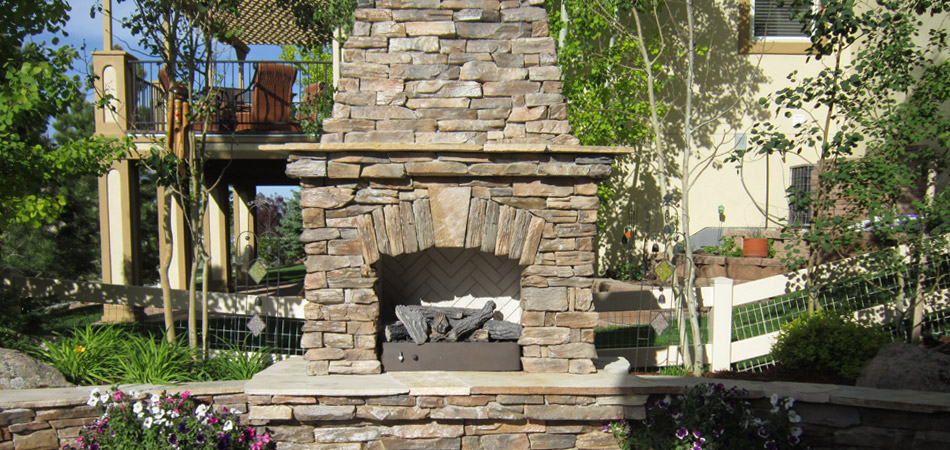 If you're looking for more ambiance and a classy feel, then an outdoor fireplace may be your best bet. Not only does it create a gorgeous focal point for your outdoor living space, but it also adds depth to the area and a natural place for guests and friends to gather. Outdoor fireplaces can be more costly than a fire pit, as they do require more custom stonework and adherence to state laws regarding chimney placements.
Custom fireplaces, as with fire pits, can be built to any size or shape. Your fireplace can be wood-burning or fueled by gas. An outdoor fireplace can also provide some privacy, as they can get quite tall. That height means it can also block wind, which is a huge perk on those cold autumn evenings. Consider adding a mounted television above the outdoor fireplace to further increase entertainment and enjoyment of your outdoor living space.
---
If you're thinking about adding a fireplace or fire pit to your outdoor space, contact us today!
At Alive Outside Landscaping, our years of experience mean we can help you choose between a fireplace or a fire pit. We will take your wishes into consideration and help you decide which fire element is best for your outdoor living space. Our qualified hardscape designers will construct a beautiful custom fire feature for you that complements your home or business. Contact us today at (970) 889-3826 or fill out our online form to get on our schedule!