For those looking to spruce up and improve an outdoor living space, a kitchen is an excellent option—and when it comes to outdoor kitchen installation in Fort Collins, Loveland, Windsor and surrounding areas. Alive Outside Landscaping is the company to call.
Whether you need a prefabricated kit for quick installation or a custom design, we can help make your outdoor area feel like a luxury. If you're unsure which option will best suit your needs, we're happy to help. Here are a few things to keep in mind when deciding between a custom outdoor kitchen and a kit.
---
Custom outdoor kitchens allow flexibility and gives you control over every feature of your new kitchen.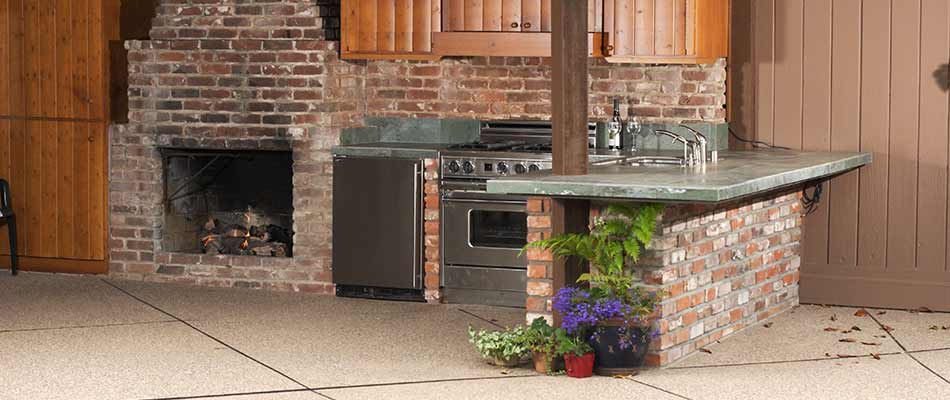 A custom outdoor kitchen is often the first choice for many people who seek to revitalize their outdoor living area. However, custom kitchens might not be practical for every situation. Depending on your needs, a custom kitchen can be slightly excessive.
Pros:
Personalized - A custom outdoor kitchen fits your outdoor space in a natural way that blends in with the existing landscape. Customization also opens the door for you to have much more control over the materials used in the construction and the overall appearance of the design.
Feature-rich - When you begin a custom outdoor kitchen project, you can dress it to the nines in its features. If you want to include a bar, you can. Pizza lovers might want a brick oven. You can set the mood with specific lighting, too.
Cons:
Expense - A custom kitchen might not be in the cards for those on a tight budget. Once you begin adding more features and personalization, costs can add up quickly.
Time - Designing and building anything to custom specifications will always take more time than installing prefabricated kits. If you have a certain deadline in mind for your outdoor kitchen, the custom route might not be for you.
---
Outdoor kitchen kits offer a quicker installation and can reduce the cost in comparison to custom outdoor kitchen designs.
An outdoor kitchen kit, or prefabricated kitchen, is an excellent way to update your outdoor living space without breaking the bank. Many people opt for prefabricated kitchen kits over custom outdoor kitchens because of their ease of installation and cost-effectiveness.
Pros:
Economic - Prefabricated kitchens cost less than customized kitchens but still retain high quality. While you have much less control over the appearance and design of the kitchen, fewer options mean you won't overspend on features that you may not even use down the line.
Fast installation - When you have less to worry about in the design process, construction on your kitchen can begin much faster. All you need to do is pick out the kit that appeals to you and the appliances that you want. After that, the installation process is simple.
Cons:
Prefabrication - The nature of prefabricated kits is a double-edged sword. While this makes the kits quick and easy to install, it can be difficult to find a kit that offers what you want it. The lack of control over the construction materials might also lead to prefabricated kitchens seeming out of place in some locations.
Simple - Since you won't have as many options to personalize your outdoor kitchen area, you may not be able to find a kit that contains the features you want. Most often, prefabricated kitchen kits only come with basic features.
---
Contact our team to discuss the construction of your outdoor kitchen.
Regardless of the type of outdoor kitchen area you decide is right for your space, Alive Outside Landscaping can provide everything that you need for your project. Our knowledgeable crew can guide you through the whole process from your first design to your first use. We can help also answer any questions you have so that you make the right choice for your needs.
Reach out to our team today for more information about outdoor kitchen options or to get started with a quote. If you are located in Fort Collins, Loveland, Windsor, CO, or neighboring areas call us at (970) 889-3826!