In our area of Colorado, we have fantastic weather, beautiful scenery, and active wildlife. So when we heard from one of our clients in Fort Collins that they wanted to add on a new fantastic outdoor living space to maximize their enjoyment of the outdoors, we were thrilled to help.
We sat down with the clients and planned out exactly what they wanted to see—and the end result was a gorgeous outdoor living space that addressed everything they were looking for. Take a look to see the additions we made to their space and learn about the benefits of these features.
---
Custom Paver Patio & Walkway Extends Livable Area, Adds Functional Space to the Yard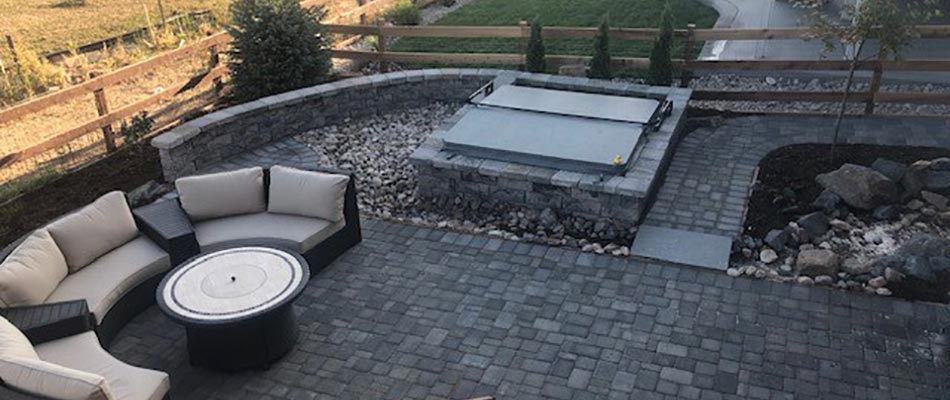 The first element we added was a custom paver patio and walkway. This feature works to tie everything together and really create a cohesive feel throughout the space. We chose a darker grey color for the pavers so that they would match well with the exterior of the home. This patio gives the homeowners a great area to extend their livable area with some functional space where they can add patio furniture and entertain guests during the year.
---
Gas-Burning Fire Pit Adds Ambiance & Increases Enjoyment During the Cooler Months
Another feature the homeowners wanted to see was a gas-burning fire pit. In the area of Colorado that includes Fort Collins, Loveland, and Windsor, we definitely get cooler weather once fall and winter hit. The fire pit gives them and their guests a chance to enjoy the space even when it begins to get cold outside, as they have a space to gather around the warmth of a fire. During the warmer months, the fire pit can also serve as a natural bug repellent for pests such as mosquitoes, as they do not like the smoke.
---
Putting in a Custom Water Feature Creates a Peaceful Environment
The client also wanted to add in a custom water feature, so we created a waterfall that flows into a small stream and continues flowing through a bed of rocks. The sound of water flowing in their backyard will help to create a peaceful environment where they can relax after a long day of work or school. It can also serve to attract wildlife such as birds and squirrels. Since this particular water feature uses circulating water, it will also be low-maintenance, meaning it won't require as much cleaning or be as prone to algae buildup.
---
Seating Wall Provides a Natural-Looking Way to Extend Areas for Guests & Family to Rest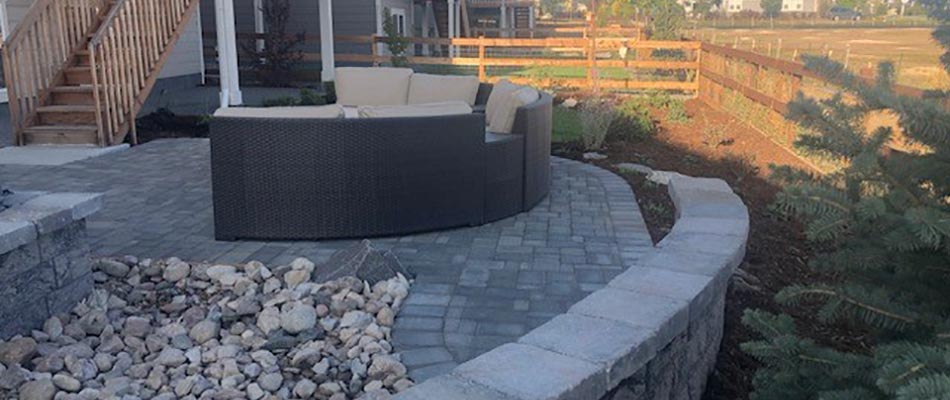 Around the edge of the patio and around the hot tub, we constructed stone seating walls for extra entertainment space. These seating walls are a natural-looking element and extend the outdoor resting area for guests, friends, and family. We constructed these with tough, durable materials that are also gorgeous looking and complement the rest of the space.
---
Using Native Plants in Landscaping Is Eco-Friendly & Energy-Efficient
Around the outside of the patio, we also installed some custom landscaping beds. Whenever we put in new landscaping, we try to use plants that are native to the area and thus proven to thrive here so that they don't require a lot of maintenance and resources to live. This is an eco-friendly and energy-efficient tactic, as the native plants don't need as much watering or fertilizer. Plants we used in this project include:
Hydrangea
Lilac
Burning bush
Salvia
Black-eyed Susan
Blanket flower
Hosta
Daylily
---
Check out some more photos from this project!
---
Do you need a new outdoor living space for your home in the greater Denver, CO area?
At Alive Outside Landscaping, we have over 30 years of experience designing and installing custom outdoor living spaces for area homes. Our services are available throughout the greater Denver, CO area, including Fort Collins, Loveland, Windsor, and more. Contact us today at (970) 889-3826 to get on our project schedule and to set up an initial estimate.