Adding a custom fire pit or fireplace to your yard provides many benefits. From increased property value to extended outdoor livability and comfort, outdoor fire features are a great investment for your home.
Here are some reasons to consider adding a custom fire pit or fireplace to your yard in Fort Collins, Loveland, Windsor, and the surrounding areas.
---
A Fire Pit or Fireplace Creates a Focal Point and Enhances the Outdoor Environment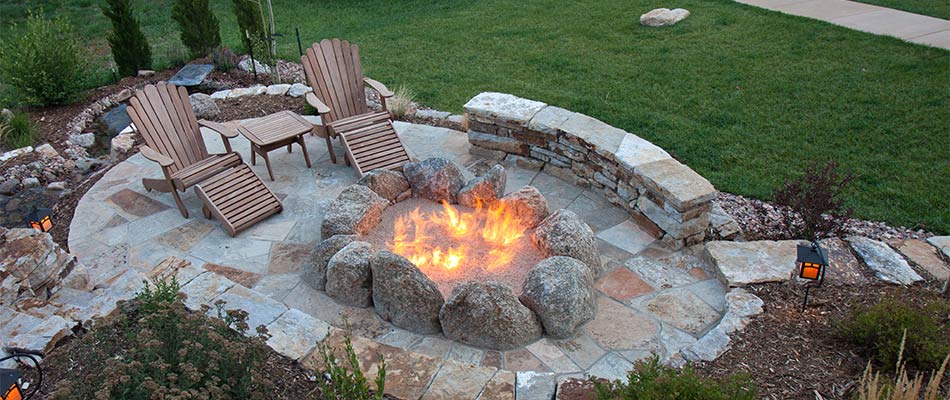 Adding custom landscaping or hardscaping to your yard always enhances your surroundings, and the same is true for a custom fire feature. Fire pits and fireplaces create a beautiful gathering space for family and friends to gather and becomes a focal point for your outdoor living space. No matter what type of fire feature you choose or what shape it is, a fire pit or fireplace creates a delightfully stunning design anchor in your yard and enhances the area's natural beauty, even when not in use. Custom hardscaping, like an expertly crafted outdoor fire feature, draws attention to your home's architecture and enhances the surrounding environment.
---
Outdoor Fire Features Extend the Livability and Comfort of Outdoor Spaces
An outdoor fire feature allows you to comfortably enjoy your outdoor environment throughout the year, even during cold months and at night. The heat that emanates from your fire pit or fireplace provides enough warmth to comfortably warm those who sit around the fire.
A custom fire pit or fireplace also provides natural lighting that increases visibility at night without increasing your electric bill. Many outdoor spaces are rendered unusable once darkness falls at night. A custom fire feature supplies ample glow to light up these areas and extends the amount of time you and your family can enjoy the outdoors.
Fire pits and fireplaces also provide natural insect repellent, as the smoke and fumes that waft from the burning wood deter insects and other pests.
---
Adding a Fire Pit or Fireplace to Your Yard Increases Your Home's Value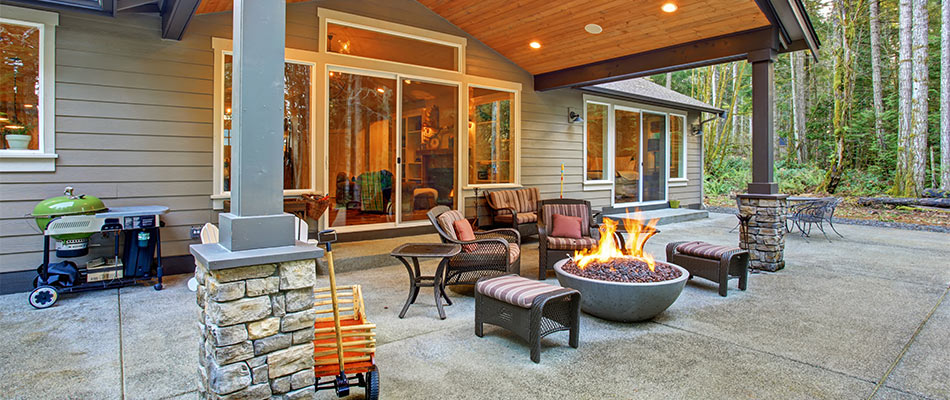 An outdoor fire feature significantly increases your home's value, both in terms of monetary value and quality of living. Fire pits and fireplaces add a feeling of sophistication and elegance to your yard while giving your outdoor space a welcoming and warm atmosphere. Studies show that adding custom hardscaping elements to your yard, such as a custom fire pit or fireplace, increases your home's value and provides a strong return on investment. Depending on the materials used in construction and where the feature is placed, you could expect to recoup about 30% to 60% of the costs. Fire pits and fireplaces are also a popular trend right now and attract potential homebuyers. When potential buyers visit your home, they'll revel in the enhanced ambiance and prospect of increased outdoor enjoyment.
Custom hardscaping doesn't just add monetary value; it also adds to your quality of life. A fire pit or fireplace extends your outdoor living time, and brings friends and family together for valuable, quality time. Many people consider this to be much more valuable than the monetary gain from adding a custom fire feature to their yard.
---
Contact us today to add a custom fire pit or fireplace to your yard.
At Alive Outside Landscaping, we're known for creating exceptional outdoor living features, such as custom fire pits and fireplaces. Our custom landscaping and hardscaping elements enhance your home's property and increase its value. Call us today at (970) 889-3826 to speak with one of our company's experts and get started with a consultation.