When you purchase a new home, you're making a huge investment. We take pride in owning our own home, and therefore want to protect this investment and get the most out of it as possible.
Adding custom landscaping to your property is one way you can increase your home's value and get more out of your investment. Custom landscaping complements your home and adds valuable living space that provides endless enjoyment and relaxation benefits. Here are some benefits a custom landscape adds to your home in Fort Collins, Loveland, Windsor, and the surrounding Northern Colorado areas.
---
Custom Landscaping Complements Your Home
One perk to adding custom landscaping to your home is that the design aesthetic will perfectly match and complement your already existing architecture and style. If you have a modern house, a rustic landscape will clash with your home's aesthetics and actually detract from your home's value. However, a quaint cottage would pair perfectly with a rustic garden and increase the property's value. The same goes for your home.
Having a custom landscape designed by a professional company like Alive Outside Landscaping ensures your outdoor area will complement your home's current architectural style. Adding custom landscaping to your property can transform your home in such a unique way and bring a fresh new look and feel to your home without looking like a sore thumb that doesn't belong. When our landscaping contractors design and install a custom landscape for your home, we use materials that complement your home's current aesthetic so it fits in seamlessly and looks like a natural extension of your home.
---
Custom Landscaping Increases the Value of Your Home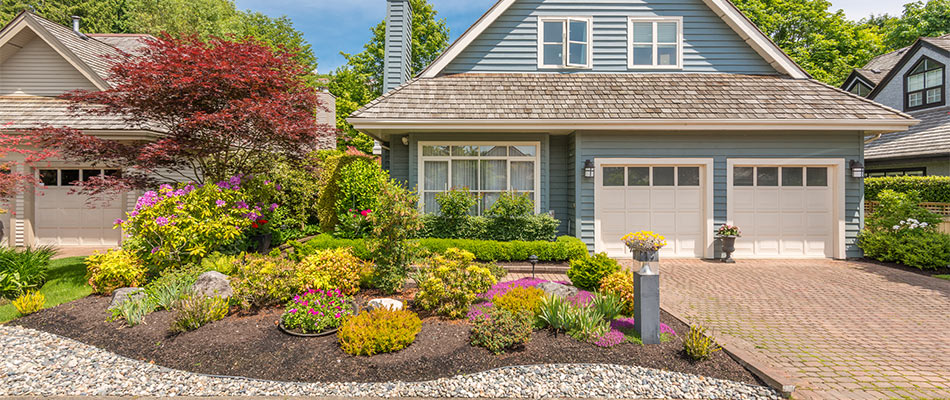 When visitors come to your home, the outside is the first thing they'll see. That's why it's important to make a good impression on them, especially if those people are potential buyers. People are often willing to pay more for a home with a lush lawn, flowering trees and plants, and a nice custom deck or patio or other outdoor living space. Even something as simple as accenting your front yard with a bed of perennials or annuals can really make your home stand out. A custom landscape offers a great return on investment (ROI) of about 30%–60% depending on the materials used and if the additions are a central feature of the home. Custom landscaping also increases your curb appeal and home's value overall.
Even if you aren't in the market for selling, a custom landscape adds value in the form of personal pleasure and satisfaction from having an outdoor space that is specifically tailored to your desires and your home's style. A beautiful softscape accompanied by a relaxing patio with an outdoor fireplace, for example, provides a great gathering point in your yard and inviting place to relax with family and friends.
---
Custom Landscaping Adds Living Space
Creating a custom outdoor living area essentially adds another room to your home, only outdoors. When the weather is nice out you'll have a new outdoor space to entertain and relax. With so much of our lives spent indoors, it's important to give yourself an enjoyable outdoor space to relax in.
Installing a custom landscape to your property increases your home's value, adds protection from flooding and erosion, and decreases stress and anxiety.
---
Custom Landscapes Use Native Plants and Flowers
One of the challenges people face when designing their own landscape is what plants and flowers to choose and which ones work well together. Not all plants and flowers work well in our area. When we design a custom landscape for your property, we take special care to use native plants from our area that complement each other and survive well in our climate. Our plants and flowers are hardy and thrive well.
Using native plants and flowers in a custom landscape also attracts wildlife to your property. Many common plants used in our custom landscapes provide food and shelter for birds, pollinators, and other friendly critters. These pollinators not only add a natural and beautiful element to your yard but also help the environment.
---
Custom Landscaping Can Provide Added Protection Against Flooding and Erosion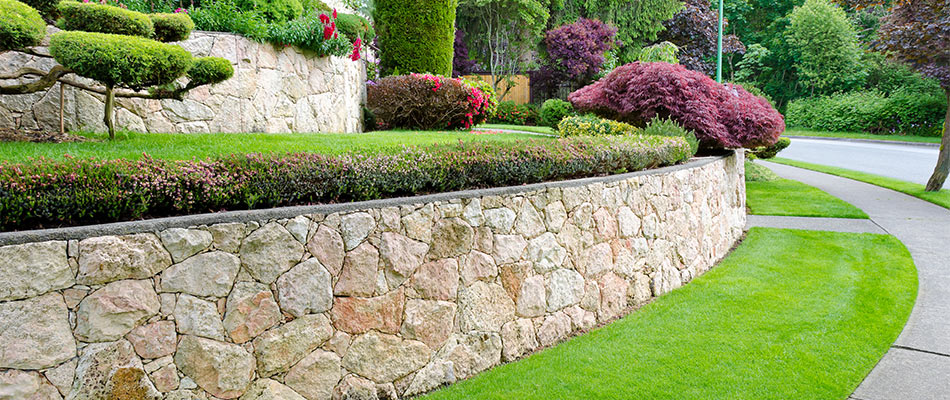 When it rains or snows, particularly in our area, uneven areas of land can flood and cause soil erosion. Adding custom landscaping like a retaining wall not only adds natural beauty that perfectly accents your property but also adds functional value and protection from flooding and soil erosion. Retaining walls help redirect floodwater and prevent soil erosion on your property, and evens out slopes and hills in your yard.
When your yard floods, it doesn't look visually appealing, and it prevents the use of that area due to soggy soil and excess water. Adding a retaining wall that eliminates flooding creates more usable space on your property by preventing your beautiful yard from becoming a muddy mess. Installing a custom retaining wall also creates a focal point and provides more options for adding other custom hardscaping or softscaping.
---
Custom Landscaping Provides a Peaceful Focal Point for Relaxation
A cozy outdoor fireplace or a soothing water fountain provides a peaceful area to relax outside. When the weather is chilly at night, an outdoor fire pit or fireplace provides warmth and a comforting area to enjoy the outdoors while remaining warm. Water features such as streams, fountains, and waterfalls add a fresh and tranquil ambiance to your yard and definitely adds a unique element not found on most properties.
In addition to adding natural beauty to your yard, custom landscaping like water features has soothing properties. According to the Water Gallery, water fountains help reduce stress and anxiety and invoke a sense of unity, peace, and general happiness.
---
Ready to add some custom landscaping to your property?
If you're ready to add value and space to your home with custom landscaping, our company is here to help! We have over 30 years of experience creating beautiful custom landscapes for properties in Fort Collins, Loveland, Windsor, and the surrounding Northern Colorado areas. Call us today at (970) 889-3826 for a free estimate and project evaluation.