You've invested a lot of time and money into your outdoor living space, therefore it's important to make sure these areas stay in good shape all year long, especially through the harsh, unforgiving cold months. Winter is one of the hardest times on your outdoor living spaces as the excess moisture and freezing temperatures can cause many issues.
From cleaning your patio and deck to shutting off water to outdoor utilities, here are some tips on how to prepare your outdoor living space for winter weather in Fort Collins, Loveland, Windsor, and the nearby areas.
---
Remove or Cover Outdoor Furniture & Grills
Winter weather can be very tough on your outdoor furniture and grills. To protect these items from the cold, make sure to cover them with heavy-duty vinyl covers to keep them safe and dry all winter. Look for covers that are water-resistant to prevent water damage to fabric and wood. If you don't plan on using your furniture or other large items throughout the winter, then pack them up and store them away in a safe, dry place. Completely clear away all tables, chairs, and grills and store them in your garage, shed, or other safe area. You can also opt to buy winter furniture that is weather-resistant and can withstand the cold weather.
---
Clean Grills & Outdoor Appliances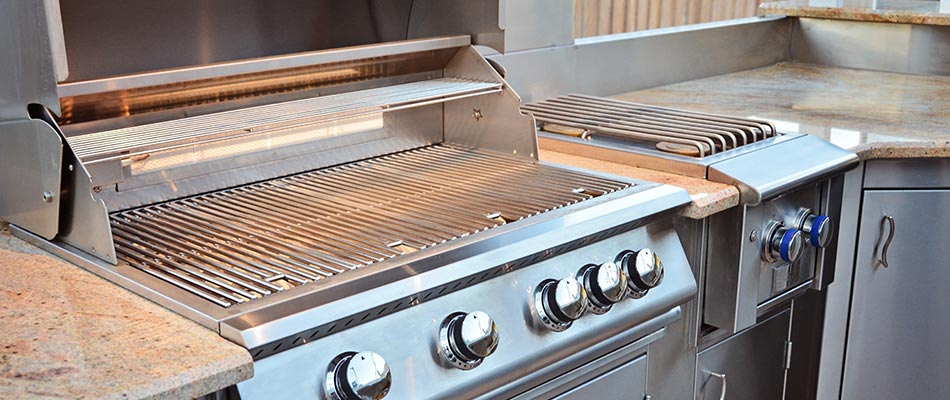 When the cold weather starts to blow in, many people do not think about cleaning their grill, stovetops, and other outdoor appliances. This is why many of these items can look terrible when spring rolls around. Failing to thoroughly clean these items and give them a good scrubbing can shorten their life span and degrade their quality. If you have a charcoal grill, get rid of the ash and old coals. Use degreasing agents and thoroughly rinse them with a hose. Scrub countertops, stovetops, and clean out your outdoor fridge to make sure these items are pristine and ready to use once the warmer weather returns.
---
Disconnect Utilities & Prepare Your Plumbing
If you won't be using your outdoor appliances during the cold weather, be sure to disconnect them for the winter. Disconnecting your utilities will keep energy costs low and will help keep the lines from freezing. Make sure to shut off the water to these outdoor appliances and clear out any excess water from the pipes and plumbing system. You can drain all water from the pipes by using compressed air to blow out any excess water and leaving all drain valves open throughout the winter to let any remaining water trickle out.
If water is left in your utilities' pipes during the cold winter, the excess water will freeze and cause your pipes and water lines to crack and burst.
---
Sweep & Wash All Surfaces & Seal Countertops
Even if you won't be spending much time on your patio or deck, it's important to make sure it's clean and tidy before the cold weather sets in. Stains, dirt, and mildew can all degrade the quality of your patio and deck. Even if the effects aren't immediately apparent, over time these items will begin to crack and lose their integrity. Sweep your patio, deck, and other outdoor spaces and clear away all dirt and debris. Clean off any areas that may have stains or other buildup.
Using a high-pressure water hose to spray off these areas is a great way to clean your hardscapes without damaging them. If you have any outdoor countertops make sure their sealant is in good condition. If your sealant is worn and weathered, call a professional to come out and clean your counters, then apply a weatherproof sealant to protect them from moisture and freezing cold weather.
---
Start preparing your outdoor living space for winter.
Winter will be here before we know it, therefore it's important to start preparing your outdoor living space now before the cold weather hits. At Alive Outside Landscaping we create gorgeous outdoor living spaces for clients in Fort Collins, Loveland, Windsor, and the surrounding areas. Call us today at (970) 889-3826 to have our expert landscapers come prepare your hardscapes and outdoor living space for the upcoming cold winter months.