When you work to create a beautiful outdoor living space on your property, you want to create one that's tranquil and seamlessly blends into the nature around your yard. Our spaces integrate native plants and boulders, but one other way we can put some more nature into your landscaping is by adding water features. Water features can add texture, sound, and other aspects.
Here are some ways that water features can accentuate your outdoor living space in Fort Collins, Loveland, Windsor, and surrounding areas in Colorado.
---
Water Features Complement Your Landscaping and Property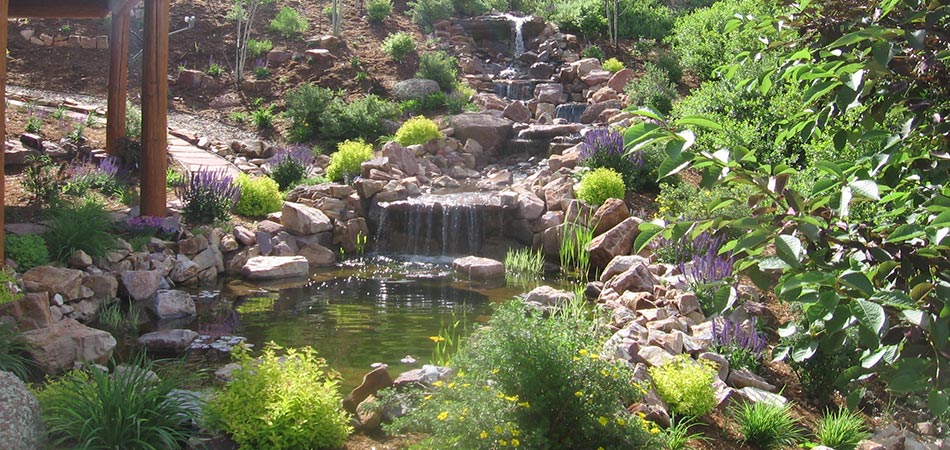 Water features, like ponds or waterfalls, can bring the bubbling sounds of nature to your doorstep. Another perk of custom water features is that they can be designed to fit any space. Bigger ponds are great for larger properties, whereas pondless waterfalls can fit into a smaller space. The pros at Alive Outside Landscaping can consult with you on where would be the best area to install a custom water feature. Often, they may fit into space in your yard that was going unused.
Another benefit of water features is that they can increase your property's value, meaning they are a great return on investment.
There is some maintenance required for water features like ponds, as algae will accumulate if the feature isn't cleaned. If you're looking for one that doesn't require as much maintenance, a smaller feature such as a pondless waterfall would be ideal. The water continues to circulate, meaning there's less area for bacteria to grow.
---
Attract Wildlife to Your Yard
Ponds, waterfalls, fountains, and other water features will also bring wildlife into your yard, giving you even more of a taste of nature on your property. You could see an increase in birds on your property, as well as deer, rabbits, and other animals. Our area of Colorado offers many diverse species of wildlife, so water features are perfect for Fort Collins and the surrounding areas.
The types of plants installed around your water feature can also help boost wildlife visits while blending your water feature into the rest of your landscaping.
---
Make Your Landscaping Unique

Every landscaping job we do is unique and custom to the property, but by adding a water feature to a design, we can make the property even more suited to your wishes. Bubblers, made from boulders, are a great way to blend your landscaping into the natural look and feel of our Colorado land. Streams can connect one area of the property to another, while waterfalls can create a gorgeous cascading sound that helps you unwind after a long day at work.
---
Make your property look beautiful and natural with a custom-designed water feature.
At Alive Outside Landscaping, we have designed and installed water features all throughout the areas of Fort Collins, Windsor, and Loveland, CO. Call us today at (970) 889-3826 or fill out our online form so we can set up an initial consultation to discuss what you'd like to do for your property.